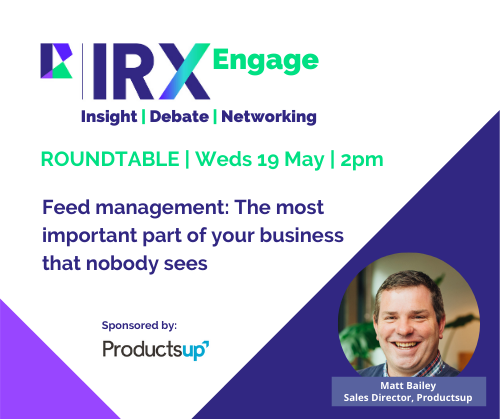 With old school feed management solutions, you need coding skills as well as days or weeks to update a single feed. Thanks to modern feed management, another way is possible – shortening time to market, reducing the need for IT involvement and empowering marketers to optimise feeds autonomously.
Join a roundtable discussion at 2pm on 19 May 2021 to discover how you can capture new opportunities and boost sales performance, including practical tips for Google Shopping, affiliate websites and LIAs.
The roundtable is 'invite only' and targeted at senior executives working for large retailers and brands with big product catalogues. You should already have a good knowledge about feed management and your business should already have it set up - either in-house or via an agency.
The roundtable is held strictly under the Chatham House rules and will provide you - as a retailer - with the opportunity to discuss openly how you manage your business's feed management, its pros and cons and share practical tips and shared learnings.
Matt Bailey from Productsup, will facilitate the session; Matt has worked in the performance marketing arena for more than 15 years and so reluctantly accepts that his can be referred to as an 'industry veteran'. You can watch a recent webinar he ran earlier in the year on the IRX Engage digital platform 'Empowering the marketer: How to optimise your product feeds and drive sales', either by completing the form below, or registering here.
If you would like to participate, please register your interest below. Please note, this is invite only, so we will be in touch to let you know if you have been successful.
Register your interest here: