17 May 2023
Allpack launches updated and revised Sustainability Packaging Guide: A Comprehensive Resource for Eco-Friendly Packaging Solutions.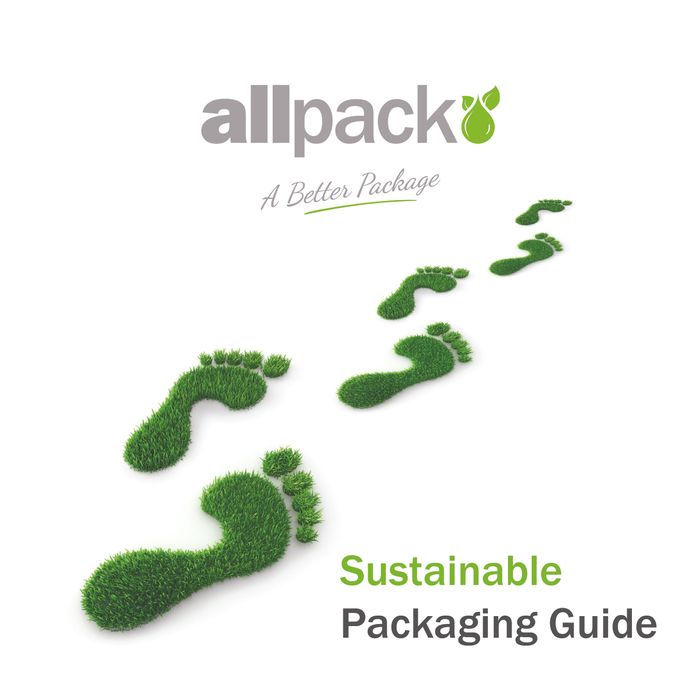 Allpack launches revised and updated Sustainability Packaging Guide
Allpack's updated and revised Sustainability Product Guide: A Comprehensive Resource for Eco-Friendly Packaging Solutions will be available to pick up on the Allpack stand G2, during the IRX & eDX Exhibition, 24-25 May.
Allpack, a leading provider of packaging solutions, is thrilled to announce the launch of its highly anticipated updated and revised Sustainability Packaging Guide. This comprehensive resource is designed to assist businesses in making environmentally conscious packaging choices and navigating the rapidly evolving landscape of sustainable materials and practices.
In today's world, where environmental concerns are at the forefront of global consciousness, it is crucial for companies to prioritize sustainable packaging solutions. The Allpack Sustainability Product Guide serves as a one-stop reference, offering valuable insights, information, and guidance to help businesses adopt eco-friendly packaging practices that align with their sustainability goals.
Key Features and Benefits of the Allpack Sustainability Product Guide:
1. Expertly Curated Selection: The guide showcases a diverse range of sustainable packaging options carefully selected by Allpack's team of experts. From recycled and recyclable materials to biodegradable and compostable alternatives, businesses will find a variety of innovative solutions to suit their unique needs.
2. Detailed Product Information: Each product featured in the guide includes comprehensive details such as material composition, certifications, and environmental impact assessments. This enables businesses to make informed decisions and choose packaging options that align with their sustainability objectives.
3. Practical Case Studies: The Sustainability Product Guide includes real-life case studies that highlight the successful implementation of sustainable packaging strategies across various industries. Allpack aims to inspire and guide businesses in their sustainability journey by sharing these best practices.
4. Regulatory Updates: As regulations and standards surrounding sustainable packaging evolve, it can be challenging for businesses to stay up-to-date. The guide provides regular updates on environmental policies, ensuring that businesses remain compliant and informed about emerging trends in sustainability.
5. Expert Advice and Consultation: Allpack's team of sustainability experts are available to provide personalized advice and consultations to businesses seeking assistance in implementing sustainable packaging solutions. Their expertise and industry knowledge further enhance the value of the Sustainability Product Guide.
Allpack is committed to promoting environmental stewardship and assisting businesses in their sustainability efforts. By launching the Sustainability Product Guide, Allpack aims to be a reliable partner for businesses seeking sustainable packaging solutions, supporting them in reducing their carbon footprint and positively impacting the planet.
Pick up your new Allpack Sustainability Packaging Guide on stand G2 during the event, or if you cannot wait, download a copy via www.allpack.uk.com/sustainable-packaging or contact sales@allpack.uk.com or call us on 01543 396700 to discuss your packaging requirements or book a time to meet with us during the event.