10 Apr 2019
Direct Cars: From 1% - 26% Conversion in 12 Months with Reviews.io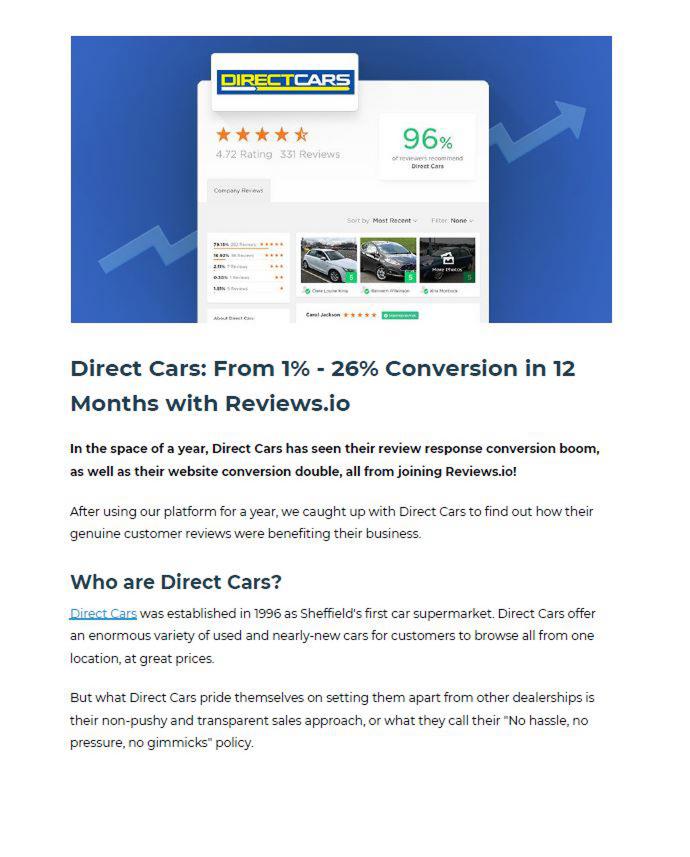 Here at Reviews.io, we believe the proof is in the pudding. So instead of us telling you how wonderful our platform is, we've got back in touch with one of our clients to see how they've been getting on since joining us. We're essentially, getting our very own performance review!
'
Direct cars joined us a little over a year ago, with the hopes of finding a Review Platform that could help them to increase their online presence. Although already collecting reviews, they were seeing little return and struggling to get their stars seen in the SERPS - a common problem amongst online retail businesses.
'
Since then, with the help of the Reviews.io platform, their online presence has gone from strength to strength. Our compelling review collection emails have helped Direct Car's review conversion rate increase from 1% to 27% and the reviews collected are now not only seen across their site, but also across Google and even on Auto Trader. Most impressive of all? The website conversion itself has doubled. If that's not proof that reviews really work, we don't know what is.
'
There's a lot to be learnt in their case study, both for those already collecting reviews and review newbies alike, so be sure to read on to discover more about our innovative features and how we helped Direct Car take their online presence from zero to one hundred.
Download free whitepaper now

'