eComOne launches weekly podcast: unfiltered conversations with eCommerce owners and industry experts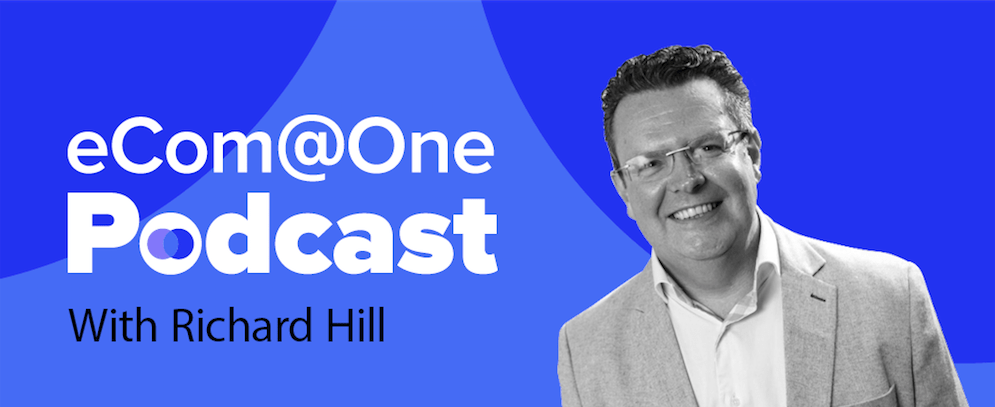 eComOne has launched a brand new podcast, eCom@One with Richard Hill. In each episode CEO & Founder, Richard speaks with business owners, marketing experts, eCommerce retailers and more.
They release a new episode every Monday at 1 pm which delves into everything from digital marketing and business strategy to mindset and habits for success.
Richard Hill, CEO & Founder for eComOne said:
"In recent years, more people than ever are listening to podcasts. It's a fantastic opportunity to add value and educate our audience.
"I purposely interview guests that uphold a no-nonsense and straightforward approach to digital marketing and eCommerce. We want to help our listeners understand the new opportunities online and how to implement results-driven strategies. Rather than focusing on theory, this podcast showcases real-world examples, and we chat to individuals with actual experience, who have "been there and done it"
"Our conversations are unfiltered, honest and relatable. Every podcast episode includes implementable strategies, tips and tactics for success".
So far eCom@One has had guests from all over the globe including Glasgow, Russia, Texas, Cornwall and Lincoln.
The most recent guest was Paula Short, Director and Co-founder of Beauty BLVD, a British cosmetics company that is partnered with a range of retailers, including Amazon, Superdrug and Glossybox.
In this podcast, Paula shares how passion, resilience and trust have shaped Beauty BLVD. She shares how to improve user experience, choosing the right distributors, her opinion on influencer marketing and her product development process.
Take a sneak peek at Paula's podcast below:
"Beauty BLVD was born as a friendship"
"You have to put your energy where you would see the most difference. Instagram for us is still one of our best platforms".
"We engage with influencers because it would be silly not to, the influencers that we've worked with are so passionate about makeup and beauty".
If you have any requests for a certain guest or subject matter, then get in touch via their podcast Instagram page, ecom_one.
The podcast is completely free and can be found on all main platforms like Spotify, Google Podcast and Apple.
For more information contact eComOne on 01522 437 111 or email hello@ecomone.com.
About eComOne:
eComOne is a results-driven eCommerce Marketing Agency with a laser focus on increasing their clients' Return on Ad Spend from four core marketing channels: Google Shopping, SEO, Search Ads & Facebook Ads. They are a Google Premier Partner that delivers tangible results for their clients.
For more information contact Richard Hill on 01522 437111 or richard@ecomone.com.