04 Mar 2020
Fulfilment tech that optimises existing store space available for pilot in the UK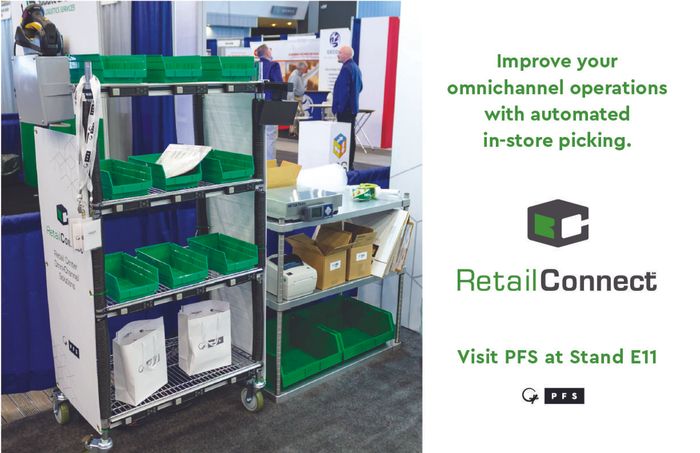 UK, Southampton, 04/03/2020 ' Forward-thinking retailers are being sought to pilot the latest 'Fulfilment-as-a-Service' (FaaS) technology, which enables them to optimise their existing shop floor space to fulfil eCommerce orders more efficiently. Global commerce services company, PFS, has developed this product to help retailers reduce costs while delivering a better customer experience.
Using PFS' RetailConnectSM solution, retailers can fulfil eCommerce orders directly from their shop floors, without allocating additional space, staffing, hardware or software. This results in fast BOPIS and BOSS fulfilment, including the possibility of same-day delivery, which maximises the omnichannel value of physical stores.
Building a traditional omnichannel order delivery system can be an expensive investment as stores are not equipped with infrastructure for bulk product storage, packing and delivery. They are also not staffed for product picking, packing and delivery processes. RetailConnect negates these issues and seamlessly integrates into the existing store environment
Joe Farrell, vice president of international operations at PFS, comments: 'We've developed this solution to maximise value from existing physical stores. At a time when physical stores are closing due to the rise in eCommerce, optimising brick-and-mortar stores to fulfil eCommerce orders helps to reduce costs and maintain a presence on the high street.'
For more information on RetailConnect click here.' PFS will be exhibiting at InternetRetailing & eDelivery Expo, on stand E11. To find out more or to get in touch with PFS, email: hello@pfsweb.com. '
'
About PFSweb, Inc.
PFSweb (NASDAQ:PFSW) is a global commerce services company that manages the online customer shopping experience on behalf of major branded manufacturers and retailers. Across two business units ' LiveArea for strategy consulting, creative design, digital marketing, and web development services, and PFS for order fulfilment, contact centre, payment processing/fraud management, and order management services ' they provide solutions to a broad range of Fortune 500' companies and household brand names such as Procter & Gamble, L'Or'al USA, Ralph Lauren, PANDORA, ASICS, the United States Mint, and many more. PFSweb enables these brands to provide a more convenient and brand-centric online shopping experience through both traditional and online business channels. The company is headquartered in Allen, TX with additional locations around the globe. For more information, please visit www.pfsweb.com.