27 Feb 2020
HOW TO EXHIBIT SUCCESSFULLY AT A TRADE SHOW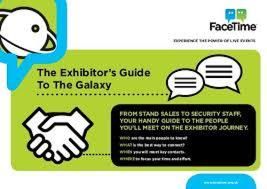 So what are the secrets of successful exhibiting?' The IRX team shares a comprehensive range of valuable advice on its website in''The Exhibitor's Guide to the Galaxy''which features plenty of important guidance produced by the Association of Exhibition Organisers.
Here are four tips which we believe every exhibitor should follow to make the most of the many marketing opportunities that an event such as'IRX'can offer.
1. Build a good rapport with your contact on the show sales team
The show's sales team will want you to 'have a good show' because they will want you to book again for next year. So they will be happy to help you make the most of the event.
First they will make sure that you have a great position on the floorplan, one that suits your company best. They can then help you gain extra value from your stand booking by telling you how you can promote your company in advance, with support from the show's marketing and PR teams, and through the event's content programme such as presenting an educational workshop at the event.
2. Pre-show marketing
Sector-leading events like IRX have established a reputation among exhibitors and visitors as the place where 'everyone in the industry will be there.'
It's well worth connecting with prospects and existing clients before the show to suggest and arrange to meet there and show them a demonstration. LinkedIn, Twitter (with appropriate hashtags), email, PR, phone and text are all effective ways to communicate and let the market know what you have to offer.
Many events also have systems to allow exhibitors to contact many of the registered attendees. At IRX these connections are made via the event app. Banners, email signatures and HTML email templates can also be provided.
3. Staffing the stand
The ideal combination of staff for a stand is a blend. It should include senior experienced sales specialists with extensive market and product knowledge along with friendly outgoing people who can welcome visitors and introduce them to the sales specialists. They should also gather contact details from every visitor. All staff should be well briefed on appointments, presentations and how to record contacts' details ' they are the most valuable asset after the event.
4. Following up after the event
Following up systematically and building relationships with contacts after the event is crucial to generate results.
Use social media to thank all those who visited you within 24 hours. Then email your database and phone the leads you generated at the show several times. In fact, 80% of sales are only made on the fifth to twelfth point of contact. Perseverance and persistence pay off!
IRX is the'UK's leading eCommerce event,'encompassing a free conference, informative workshops and hundreds of suppliers. It will take place at the NEC, Birmingham on 1 & 2 April 2020.