10 Apr 2019
Linenbundle: Saving 23% of Their Yearly Google Ad spend With Reviews.io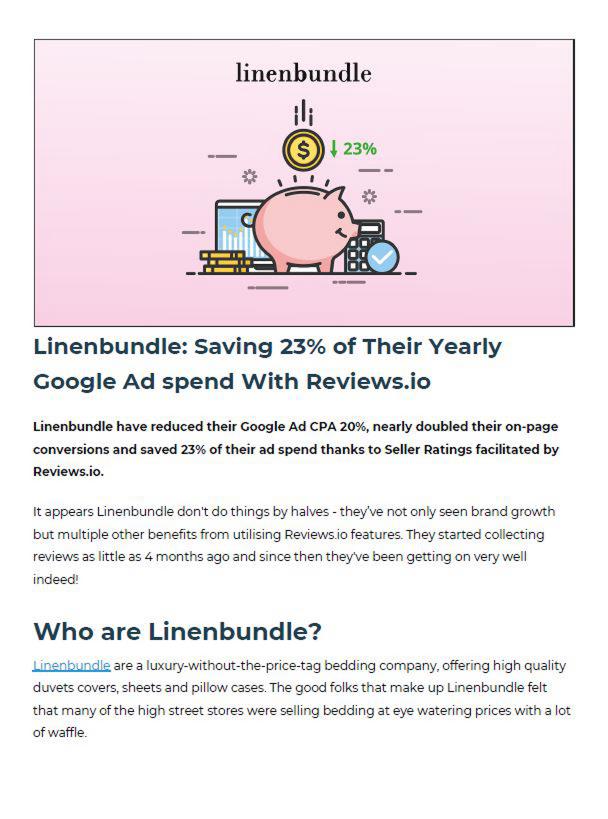 You're a new luxury bedding company trying to take on the market leaders with fantastic products and affordable pricing. The problem? No one knows about you yet.
'
Introducing Linenbundle, a luxury-without-the-price-tag bedding company that came to us just four months ago. New to the market with fantastic products but little brand awareness, Linenbundle wanted to harness the power of the customer's voice early to elevate their online reputation and build brand trust from the off-set. They acknowledged the importance of customer feedback in the early stages of their growth and as a result, were able to reduce ad spend by 23% and increase their revenue by a whopping 29%. Those little golden stars have had an amazing effect on their marketing efforts, that's for sure.
'
The benefits Linenbundle have reaped using the Reviews.io platform are much more that just numerical, however. The feedback received has enabled them to make informed choices on new product launches, constantly adjusting and improving their offerings to cater to their customers and stay ahead of the game.
'
To discover how they achieved all the above and more with Reviews.io, check out their case study. Whether you're a start-up or have been in business for years, there's something to learn here.
Download free whitepaper now

'