15 Dec 2020
Overcoming the Returns Challenge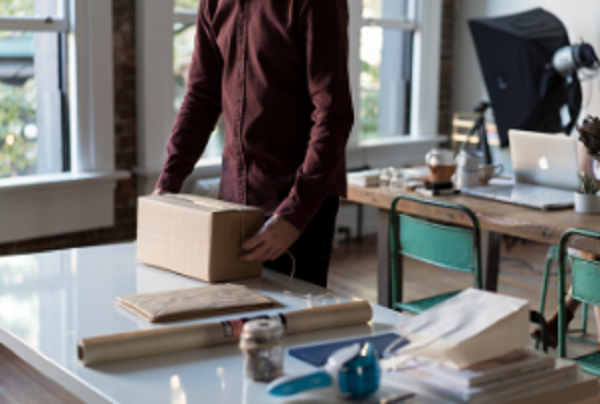 E-commerce returns are one of the biggest logistics challenges facing retailers today. Retailers lose up to £60bn per year as they manage the complexities of the reverse supply chain.* This year, with the rise in online sales due to the Covid19 pandemic, retailers are facing peak on peak selling. Just as businesses recover from peak and tackle Brexit, they will be facing the next pandemic, peak on peak returns. January 2nd is known as 'National Returns Day' and we can expect it to be a bumper year in 2021.
Returns are important to consumers with 42% of shoppers returning something in the last year and many customers often over-order to see items before they decide what to keep. R retailers must ensure they have the right measures in place so that they can streamline returns, secure customer loyalty and grow sales.
The Operational Challenges of Managing Returns
There is no denying that returns place a huge amount of pressure on business operations. This is an even bigger challenge for businesses with small stock levels and tight profit margins, where they may have less visibility and control. Retailers often do not know when a return is happening or why until it has already happened. This leads to retailers playing catch up and delays in getting re-saleable stock back into circulation and potential lost sales. Businesses should prioritise their returns policy early on so they can give more focus to stock control and management. This can help increase the speed of reselling returned items.
For businesses looking for a fast and affordable way to improve their management of returns, one option could be to enlist the services of a multi-carrier such as GFS. GFS Global Returns Pro can provide a single view of all returns data, as well as an accurate insight of what is being returned, why and when for one flat affordable fee. All this can reduce the time it takes to get goods back in stock by up to 50% - ensuring a circular stock flow which prevents waste and delay.
How Prioritising Returns Service Can Promote Customer Loyalty
With competition high for online businesses and only 52% of customers claiming they are happy with a returns experience*, having a first class service could be the deciding factor in who a consumer chooses to shop with.
Transparency and clear communication are key attributes in what customers look for in a returns policy as well as finer details including:
How long they have to return the item
Whether they can exchange the item
What the returns options are and whether they're convenient
Whether there is a cost involved for returns.
Transparency over the process, and how quickly they will be refunded.
Covering all of this in the returns policy will save time and money in the long term and give customers more confidence in the returns process. The more confident they are, the more likely they will be to commit to a purchase.
As well as helping with consumer confidence before a purchase, a smooth returns experience encourages customer loyalty. 92% of shoppers who have received a good returns experience go on to make repeat purchases. * For shoppers today, great returns are an equal part of the new shopping experience. Retailers need to offer speed, flexibility, convenience and choice to not only attract new customers, but encourage loyal customers too.
Cracking the International Returns Challenge
Cross border logistics presents even greater obstacles and uncertainties, especially when it comes to returns. Longer waiting times and additional duties and taxes to pay means that many buying online is even more of a risk for international customers. Ensuring a speedy and transparent returns service is therefore even more important.
Meeting international consumer returns and delivery expectations can be challenging too, as their expectations and needs vary from country to country. Some markets such as Spain (64%) and China (58%) are particularly sensitive to the quality of returns service, and are more likely to abandon the purchase at check-out stage based on a returns policy.* Germany has one of the highest return rates of fashion items, returning up to 70% of purchases. Whilst in France, nearly 50% of customers would prefer their item to be dropped at the local store.* With such different needs across countries, retailers must take the time to understand their international markets and tailor their returns accordingly.
The area where it is easiest to become unstuck when it comes to International returns is around duty payments and documentation. Not having the right documentation when a parcel is returned could mean a hefty fine. Putting the right measures and technology in place to cover this is essential, especially for retailers who might already be operating on tight margins.
A Simple and Cost-effective Solution to Shed Light on Returns
For a successful process, returns need to be an integrated part of the customer experience. Retailers need to provide a range of convenient returns options for their customers. They need to be flexible and agile enough to grow with demand, whilst still providing the same level of service to their customers no matter where they are in the world. To tackle the complexity of returns logistics, retailers must find a cost-effective solution to provide the best customer experience with minimal operational impact.
For many retailers, the solution is to work with multiple carriers to ensure access to a range of services that the consumer requires. However, this can be costly and time consuming. Working with a multi-carrier and logistics expert would further reduce the operational pressures by managing pick-up times, contracts and carrier relationships on the retailer's behalf under one cost. Partnering this with technology which allows better supply chain visibility will ensure that retailers can easily track their shipments and identify bottlenecks early enough to respond - finally shedding light on the returns process.
*IMRG returns review 2020