01 Jul 2021
Visual Search: The Tool That's Transforming eCommerce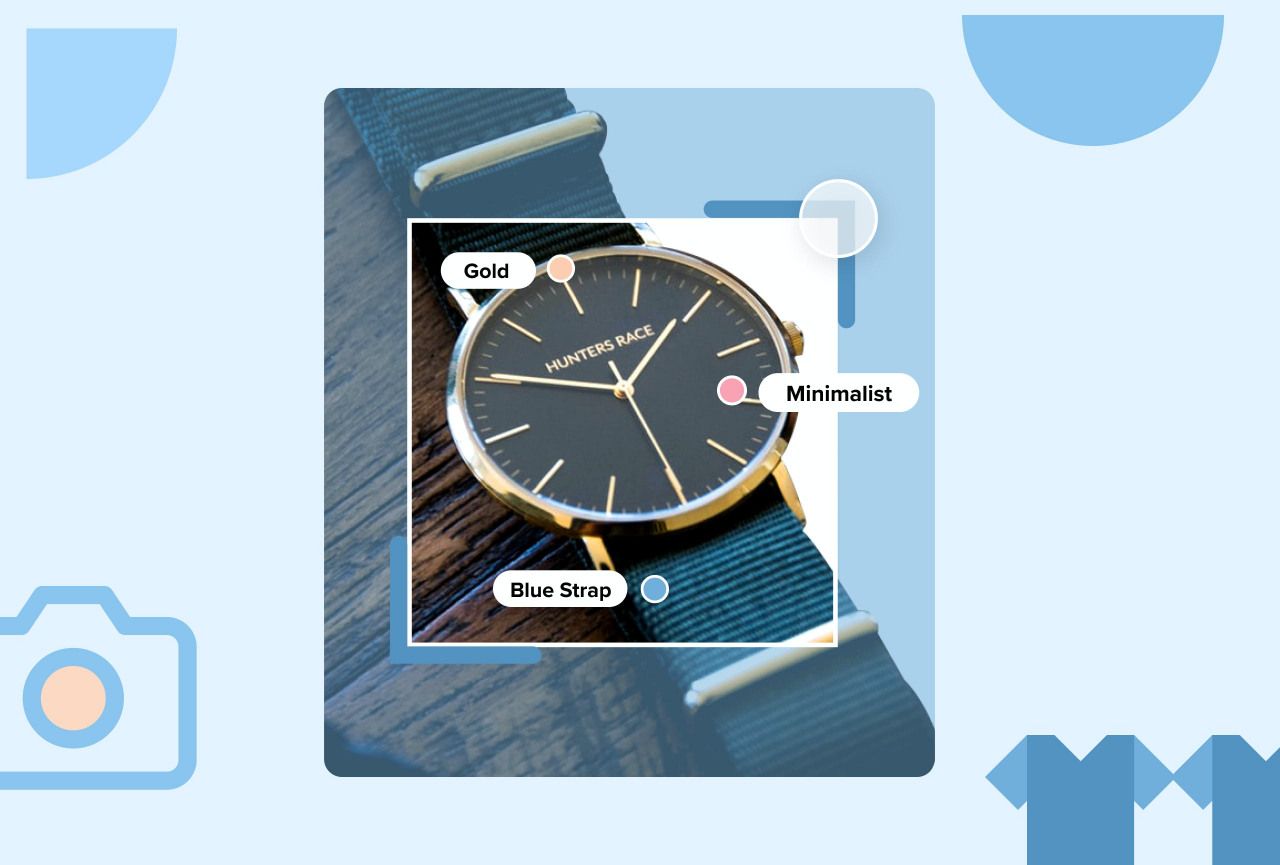 We've all heard it before - a picture is worth a thousand words.
But it's an adage that actually holds up.
As a visual species, we find it easier to process images than text.
We can see examples of this everywhere in the real world, from road signs and iconography to logos and - you guessed it - eCommerce.
Online retail relies on visual cues to communicate and sell, whilst eCommerce shoppers gain inspiration from imagery.
So, to take your site to the next level of eCommerce functionality, it makes sense to capitalise on the visual as much as possible - this is where visual search comes in.
Driving 6.4% of eCommerce revenue, visual search software is no longer a 'nice to have' - it's a must for online retailers looking to maximise revenue and improve conversion rates.
So let's take a deep dive into all things visual search and why you should integrate it sooner than later.
How does visual search work?
Visual search enables users to search using an image rather than a text-based query.
Be it a screenshot of something seen online, or a picture they've taken themselves, visual search expands the possibilities of search by removing the inaccuracies and guesswork of text-based searches.
Rather than having to describe something that you've seen, you can simply snap a quick picture, upload it to visual search and find the product or object in the image.
The evolution of visual search
Before there was visual search, there was image search.
The original photo lookup tool, image search allows users to input text-based queries to find images.
An example you've no doubt used many times is Google's current image search functionality.
In this case, searchers type in a description of the image they're looking for and Google will search any text associated with an image to try and find the best results.
This involves a lot of trial and error to predict the terms in an image's alt text, caption or file name, leading to increased search times and frustrated users.
To improve accuracy and reduce search times, image recognition in the form of visual search came along to advance searching capabilities.
As opposed to the text query of image search, visual image search begins with an image as the query.
Using artificial intelligence and machine learning, visual search engines analyse an image uploaded by a user and recognises shapes, colours, and objects to find similar images.
This reduces the reliance on text and naming conditions in search query or results and removes the need to translate pictures into search terms as users can directly upload an image as their query.
Usually, as technologies advance, previous versions become obsolete. But that hasn't been the case with image and visual search - it all depends on the search a user is conducting.
Know what picture you want to find? Image search using a text query will serve you just fine. Seen a pair of trainers on your Instagram feed you want to buy and need to find out where they're from? That's where visual search comes in.
What is driving the visual search revolution in eCommerce?
Searching by image is reimagining the eCommerce experience in 2021.
As technology catches up and responds to society's visual demands, shopping habits and customer behaviour inevitably shift too.
The majority of product inspiration now comes from Instagram and Pinterest - and eCommerce businesses need to adapt their strategies if they're to capitalise on this.
With multiple opportunities for online retail to use this technology, eCommerce is perfectly positioned to capitalise on the shift to visual.
One avenue worth exploring is getting listed in visual search results.
Whether it's Google Lens, Pinterest Lens or Bing Visual Search, making sure your products appear when users search by an image
To get listed in visual search results, you need to assess your images' SEO. Be sure to use only high quality, uncluttered product imagery with appropriate file names and alt text.
Or you can remove the uncertainty of being listed on other visual searches by implementing visual search functionality on your site.
Some of the leading tech companies have already invested in visual, as well as eCommerce giants such as ASOS and Wayfair, and now you can too.
Visually Similar Search: The next generation of visual search
With many eCommerce sites now dipping their toes into the visual search world, making sure you're staying one step ahead will put your site above the competition.
So while the traditional visual search is still relatively new, the next evolution of search is coming in the form of visually similar search.
In addition to allowing users to search using their own image, visually similar searches use your product imagery as a basis for a search.
Think about it this way. If a user is looking at an almost perfect product, but something about it just isn't quite right, performing a visually similar search displays look-alike items that might just hit the spot.
Alternatively, let's say a customer loves the face of a watch but wants the strap in a different colour. In this case, users can crop your product image to focus on the watch's face to discover all of the different variations you carry. In the same way, users can search for a specific shape, pattern, or product feature.
It's easy to see how this method of searching exposes the user to even more products recommended just for them.
By facilitating product discovery, visually similar search can create an inspiring shopping experience that seamlessly guides users through your product catalogue, straight to their next purchase.
Learn more about the future of visual search.
Benefits of an internal visual search for eCommerce businesses
You're probably thinking this new technology is all well and good but what value will it bring to my online business?
Visual search isn't just a 'nice to have', it can have a real positive impact on the things that matter to you: your conversion rate, revenue and customer loyalty.
1. Encourage customer loyalty
Customers remember anything that makes their lives easier.
And with so many online retailers in all sectors competing for customer loyalty, any tools you can integrate to make the shopping experience faster and more convenient will keep shoppers coming back to your online store.
Compared to traditional text-based searches, visual search simplifies the query process.
Rather than customers trying to match their search term to the words that they suspect the retailer chose to describe a product, uploading a picture instantly communicates to a search engine exactly what a customer wants.
Offering functionality that your competitors don't and cutting down search times will enhance the shopping experience and help retain customers.
2. Reduce bounce rates by improving customer engagement
When customers are engaged in a shopping experience, they're more likely to stay on your site and continue their product discovery journey.
With the improved accuracy offered by visual search, the search results returned for users are likely to be closer to what they're looking for than text-based queries.
By providing exact matches or visually similar alternatives to a shopper's query, visual search enhances the product discovery in the consideration and influence stages of the customer journey with genuinely relevant suggestions.
This will inspire users by allowing them to browse close matches to their search query, discovering close variations they didn't know existed or realise they wanted.
Increasing product exposure, visual search will help guide customers to the checkout page by enhancing customer engagement with your products and site.
3. Increase sales and conversion rates
Customers using visual search know exactly what they want - they're literally showing you a picture of the item they're ready to purchase.
If you can deliver that product to them immediately, it's a sure-fire sale.
In the same vein, this will also encourage impulse buys, as the shopping process is sped up for visitors.
If they had to search through your menus or scroll through not-so-accurate text results, they could lose interest and momentum in their purchase journey.
But with instantly returned, genuinely relevant recommendations based on visual cues, you can convert more customers more quickly.
4. Boost AOV
By displaying visually similar images, users are exposed to similar products from all price ranges.
When confronted with viable options at all price points, it's unlikely they'll choose the cheapest option, which might have been the case had they sorted a product page from lowest to highest price.
Acting as a form of upselling, visual search will encourage users to consider items from higher price ranges than they might have otherwise, working to boost your AOV.
So, what now?
Visual search technology is only set to improve and become an even more prominent aspect of eCommerce.
You can set your eCommerce site apart from your competitors by being among the first sites to implement advanced visual search functionality.
By increasing search accuracy, you can guide customers through your sales funnel faster, enabling you to enhance customer engagement and securing that all-important conversion.
Ready to convert more visitors?
Visually Similar Search encompasses all of the advantages of visual search we've just discussed and delivers real benefits for your company by increasing customer loyalty, reducing bounce rates and delivering visitors to the checkout page.
https://www.youtube.com/watch?v=J9vHt17zhyg&t=2s